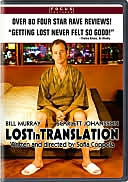 One of the best movies I've seen this year. Bill Murray is a middle-aged, faded movie star visiting Japan for a week to shoot a whiskey commercial. A young woman, Scarlett Johansen is accompanying her photographer boyfriend who is working on a shoot. Unable to sleep, the experience of being in an alien culture draws them both inward, examining the disenchantment with their lives. They meet in a hotel bar in one of their insomniac fits, they spend the next few days together filling up time. In this oasis, the two strangers find that in themselves that somehow got lost along the way.
This
movie
is very funny, with Bill Murray doing some of the best work in his life. The scene where his host unexpectedly "gifts" him with a "fantasy" prostitute was hilarious. The prostitute begs him to "lip (rip) her stockings" and then Murray, not knowing how to react, stares at her blankly until she takes matters into her own hands and tries to get him to unwillingly "rape" her. The ensuing tussle was hilarious with him trying to get away from the determined woman.
Seen through Murray's and Johansen's eyes, Japan is a city of extremes--placid countrysides, tranquil spaces, ancient traditions like ikebana (flower arrangement) and kabuki within a few miles of a bustling, overcrowded city with teens playing futuristic arcade games, karaoke and strip clubs, a cacophony of flashing neon signs and underground raves.
Here's Peter's
comments
about the movie.
I loved this movie because it reminded me a little bit of what I felt when I moved from my country to Chicago in 1992. I remember being in the airport by myself and trying to figure out what amount of money to put in the pay phone. The phone had 5-10-25 right beside the coin slot and I was trying to figure out how much it was to make a phone call. For the life of me, I couldn't figure it out. I am not sure why I couldn't because I know now that it must have been written somewhere. But I was stuck on that 5-10-25 next to the coin slot--I couldn't figure out what it meant (it indicates what kind of coins you can use). I asked a guy how much it was to make a call and he yelled at me. It was very disconcerting. I never made that call.
Afterwards Brian made a comment that I had totally assimilated into American culture that he can't detect an accent when I speak. I had made a lot of effort to work on this so I can sound like a midwesterner. However, very rarely, I fall back to my old rhythms, old pronounciations--it comes up unexpectedly, like a surprise visit from the country bumpkin cousins.
Dinner before the movie was at
Wildfire
. We had an appetizer of crab encrusted shrimp which was very buttery. For his entree, Brian had the triple filet mignon medallion which he inhaled--they were tiny. Mine was the herb roasted chicken. Brian had key lime pie for dessert. I thought it was so-so but then, I am not really into the steak scene. The bill came to $80 with tip. Quite pricey. For this price, I expect to be wowed. I wasn't. Brian liked it a lot I think. He will give his comments on the restaurant.
-----
Get the movie and soundtrack: