"Honey, did I tell you how much I love you," said my man as he is sopping up the last of the chicken stew with his biscuit.
Why is it that a full stomach lulls you into thinking you're falling in love? There is never a time that I feel more love for my boyfriend than after he's made dinner and I am sitting on the couch just basking in the warmth of the food percolating inside my distended belly.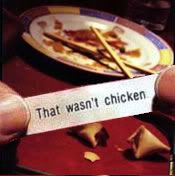 I know that my boyfriend feels the same way when I cook because he looks at me with such loving eyes, the crumbs from the apple pie still clinging to the corners of his smile. I smile back. The morsel caught in his front teeth could quickly become the puck in an erotic game of tonsil hockey.
Sometimes, I wonder whether I should be examining these feelings more carefully, especially when the elevated levels of cholesterol are making me giddy. Can these feelings be real? Is he trying to make love to me or give me a heart attack? Should I be suspicious of the dessert?
Is that why our mating rituals revolve around food? A romantic dinner at a French bistro, an impromptu picnic at the beach, a pair of strawberry-flavored edible underwear? It's the classic bait-and-switch. Use the crème brulee to get the guy. Just make sure he's eating it out of your crotch.
I think it's awesome when a guy offers to make me dinner, although it puts me in a bit of a quandary on what to bring. If he makes
La Poularde aux Truffes à la Vapeur
, should I pair it with white wine or red wine flavored lube? I often get into these internal debates, oh what would Julia Child do in my situation? She probably doesn't even use lube. She probably uses clarified butter. With a pinch of meat tenderizer for flavor.
The food in our bellies brings our defenses down, our feelings of romance and satiation becoming hopelessly entwined. Is this love or indigestion? Even poet Pablo Neruda would be confused.


I knew that it was a matter of time before celebutante Nicole Ritchie and her fiance split up; they didn't look too happy being under a hundred pounds,
together
. Love isn't love if it's on an empty stomach.
You know what would make them happy? A weekend at this great all-you-can-eat Chinese buffet that I know. In all the years I've been going there, I've never seen an unhappy couple or family. Everywhere you look, everybody's happily eating their egg rolls, steamed dumplings and hot and sour soups--or as I call them, the Three Happiness.
Hey, nobody reads my blog for advice, but heed this one. This one was handed down the ages, through the women of my family, from mother to daughter (and to me, because I was hiding behind my mother's bureau): if you want to keep your man, learn to cook. Your husband or boyfriend may fuck around, but they always come back home for dinner.