I got to spend some time with the
#1 Single
girl herself,
Lisa Loeb
, who came to the
Greater Chicago Jewish Festival
in Skokie to perform.
The festival was well attended with lots of booths, activities and food. I must admit, much as I was excited about trying some of the food served, I felt a little trepidation when I walked into the perimeters of the festival. Would people recognize that I wasn't Jewish? I was tempted to use the paper plate as a yarmulke except mine had some mustard left on it from my hotdog. I didn't want to have to wear a pickle to match my outfit.
The act before Lisa was Rabbi Joe Black, who had a rousing rendition of "Who Led The Jews Out" sung to the tune of
"Who Let The Dogs Out."
We were told to respond with "Moses, Moses, Moses" when he sang this line. It was pretty funny.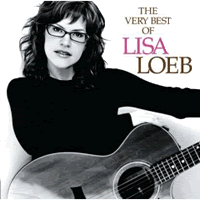 When Lisa stepped onstage at about 1:30 pm, I had already whipped myself into a frenzy. Another minute, soft peaks will form and I can be folded into a dessert base. I was just a little off to the side of the stage, within spitting distance, although she's probably too ladylike to spit at me. Maybe if I carried a sign that insulted her outfit, she would. But I loved her too much to hurt her feelings. Besides, that would be a lie. I loved her outfits.
Even though there were a lot of people around me, I felt like she and I had a connection, you know, singer and stalker-fan as one.
In between songs, she chatted to the audience about the fantastic Chicago food. She had spent some time a few years ago in Chicago when she was filming an episode of
Cupid
. It was at this point that she had turned her attention to me in the audience and we had a little conversation.
She was telling the audience that her mom tried to get her to date Jeremy Piven, the star of
Cupid
, and Lisa said "Jeremy? No, mom, Jeremy was nice, but not for me."
I yelled out, "Yes!" urging her to go out with Jeremy, who I think is quite hot.
Hearing my cry, Lisa turned to my general vicinity and shook her head and said, "Noooo, have you read Page Six?"
I nodded vigorously, thinking she
must
see me, I am the only Asian in the audience, and my hair was perfect.
"Well then," she said.
Then she went on to sing some of my favorite songs: "Truthfully," "Let's Forget About It," "I Do." Here are some pics: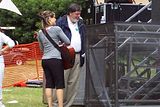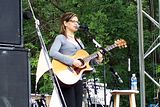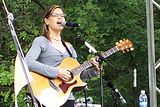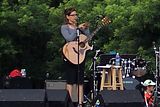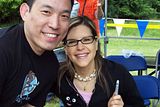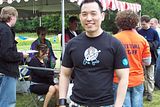 During the concert, I ran into fellow blogger Rob from
Welcome to the Bloghouse
, who writes funny celebrity and entertainment commentary.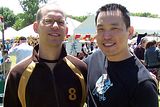 Here is a picture I took of some random gays in the audience. If this was you, I wasn't making fun of your outfit, or your hair. I only said that because it's my way of saying I want to fuck you. Call me?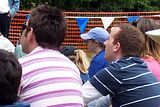 There was also a truly bizarre fan in the audience who brought his cat Sheena to the concert. On a leash. Dressed like she was going to the Kentucky Derby. I think that people were either fascinated or repulsed by the cat, or maybe its owner, I don't know.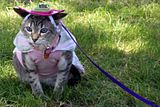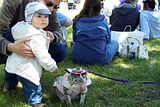 I just have only one thing to say: I think it was cruel to put this outfit on a cat and not have any matching booties.
UPDATE:
Sheena plots her revenge!
(thanks to the very wise
Gurustu
)