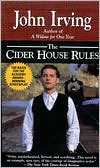 i finally finished
The Cider House Rules
by John Irving. it took me a while to finish the book because it was so long. i think it took about 3 weeks. however, the book was excellent, full of characters that you want to root for. in it's heart, it's a story about fatherhood and the complexities of our familial ties. seen through the eyes of a orphan who desperately wants a family, we are made to re-examine our own feelings for our families to whom we are thrust with no choice. the scenes which depicted Dr. Wilbur Larch, the director of the orphanage, as an inadvertent father to Homer touched me deeply, because it reflects a little on my own relationship with my father. my father spent his life working and trying to make ends meet, we hardly spent any time with him when we were growing up. when finally he had reached the financial stability he had worked for and had more time to spend with us, we were already in our teens and had no idea how to communicate to his kids, much less sullen and rebellious teenagers.
although this is only the second john irving novel i have read, i noticed that while he is a master at creating characters that are lovable, he has a tendency to lose his way at the end of the novel, as if he wants the novel to continue but is forced to spend the last few chapters trying to wrap up all the loose ends. as if the end of the story has to be the end of the character's life, instead of wherever it should logically be. the result is that the last few chapters seem to deal with the distant future of the characters and the narrative becomes forced and rushed.
thanks to my friend
annie
for recommending (and lending) me the book. because of this, i went out and bought hardcover 1st editions of
The Cider House Rules
,
A Prayer for Owen Meany,
and
Hotel New Hampshire
by the same author.
-----
Recommended books by John Irving: