One thing you might not know about me is that I have a DJ name. Of course, I'm not really a DJ, but that didn't stop me from making the name up. This is pretty much how I run my life anyway, I just make shit up and then worry about actually doing it later.
It's like I was a homosexual long before I had my first subscription to
Vogue
magazine. And listen, I tried to be a practicing homosexual at a very early age, but
Vogue
wouldn't accept payment from my Hello Kitty checkbook. Some people think that homosexuality is an evolutionary dead end, but that's not quite true--a homosexual without credit, that's the dead end. A homosexual can find a surrogate to propagate his genes, but what's the point unless his genes get to wear Calvin Klein?
So you can imagine my elation when I got my first credit card. I went on a shopping spree to end all shopping sprees and I've amassed clothes, accessories and bill collectors. I may be cash-poor, but my creditors are very, very rich.
Ok ok ok, here it is: my DJ name is DJ Evil Twin.
For those of you that didn't know, I do have a real twin. And ever since we've been little kids, we've fought each other for the right to be the Evil Twin because, let's be real, who wants to be the Good Twin? The Good Twin is the mama's boy; he climbs into her vagina and then crawls into the uterus for afternoon naps.
Nobody
wants to be the Good Twin. I'm sure right now
Ashley Olsen
is kicking herself for not having an eating disorder.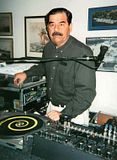 DJ Evil Twin came about during my club kid phase, which was when I was younger and the only wrinkles I had were the ones on my balls. I loved club music because it was the only kind of music where body glitter didn't look ridiculous. It was also the only kind of music where dancing alone wasn't pathetic and didn't require the additional humiliation of wearing a cowboy hat.
Club music and country line dancing were invented for spinster aunts and homosexuals and I, am glad for it, it saved my life, it got me laid. On a crowded dancefloor it was easier to make a connection and it was dark--dark enough to hide my neediness and low self-esteem. I think my spinster aunt would've gotten laid as well despite the smell of Vicks Vap-O-Rub.
For awhile, I tried the old skool version of DJ-ing, which was basically selling crystal meth out of my crates. But then I found that what I was really interested in was the
remix
. I wanted every song to be 120 beats per minute. If I heard a song, I'd imagine it with a thump-thump-thumping beat.
And then there was Charlene's
"I've Never Been To Me."
I wanted to hear a dance remix of this song so bad I could drink a whole bottle of milk just so I could throw it back up. I started tinkering with music using the
Acid DJ software
to make my own remixes.
On a lark, I sent a remix I did of Annie Lennox's "Step by Step" to Emily (Beat Commander M.L.E.), a DJ at WITR, a college radio station in Rochester, New York and a visitor to this site. And to my surprise and glee, she played it on her show
Robots in the Skies
. I was ecstatic. I feel validated, like a parking stub. If you
download
the show, you can listen to it (it's the second song). I hope she plays it again.
It feels good to have something you've created out there. Just like it feels good to have you read all the way to the very end of this post.
-----
If you want to hear the following mixes I've made, send me an
e-mail
. Warning: these are just my tinkerings, don't expect
Victor Calderone
or anything.
Annie Lennox -
Step by Step (DJ Evil Twin Remix)
Everything But The Girl -
Single (DJ Evil Twin Remix)
Justin Timberlake feat Clipse -
Like I Love You (DJ Evil Twin Surgical Mix)
Janet vs *Nsync -
That's The Way Love Goes (DJ Evil Twin 2005 Mix)
Get your own DJ name
here
and
here
.
I am a novice compared to
these guys
who remixed Bjork's
Medúlla
CD (download them!)