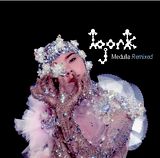 Oh
no
, not
her
again.
I know I know I know, my boyfriend Brian would like to have a moratorium on Bjork posts as well. What do you do when you have a significant other that hates some artist or record that you absolutely love?
It's almost like in my closeted teen days when I had a huge crush on
Boy George
. I didn't really know what to tell my family and friends about my obsession with this tall, outlandish, heavily made-up
person
.
I needn't have bothered with my family. I talked to my parents a few months ago and they were going to turn my old room into a sewing room for my mother. They asked whether they could take the poster of that brutish, unattractive
girl
off the wall. I was like, "Oh sure! And wait, mom can probably use the sewing kit that I have under the bed. Does she like quilting? If you look behind my desk--I know it's heavy--there's a quilting frame she might be able to use as well."
To my friends, I defended my musical choices by saying that it's just theatrics--it's
performance
, you know, like David Bowie in his Ziggy Stardust phase, Michael Jackson in his Diana Ross phase or Michael Jackson in his LaToya Jackson phase. They all nodded their assent, but thought privately: what a big, raving F...
ilipino
.
Before I got my iPod, I used to have to sneak into the apartment building's garage and listen to Bjork in the car. I would grab my pack of Marlboro's and lighter and tell Brian I was out for a quick cig, which I would ditch for the CDs I stashed in the fire extinguisher cabinet. Apparently, it was a popular hiding place. I found a set of spare keys, a small bottle of whiskey, a tube of salmon pink lipstick. I thought, it's gotta be Chuck from 11N, he's the only one who had the right coloring for salmon pink.
Because of this, I hadn't really been able to appreciate
Medúlla
, Bjork's foray into musical weirdness. But I wasn't too worried about it. Suffice it to say, an album of all vocals: choral, Inuit throat-singing and human beatboxes, was something I probably would listen to once, maybe twice a year--three, if I was trying to get rid of unwanted guests.
As has been her custom, Bjork would release various remixes of her singles. These singles often included some very good mixes that I sometimes prefer over the originals; I hungrily acquired them.
She had even gone as far as releasing
Telegram
, an album of
Post
remixes.
Telegram
was very hit-or-miss, there were some cool mixes on it like "Isobel" and "I Miss You," but by and large, it was quite impenetrable, like Katie Holmes' skull. In addition, I would scour the local DJ record stores for
"white labels,"
records of bootleg mixes of artists. That was 1996.
Since then, with the help of production software like
Sony's ACID-Pro 5
, music lovers have turned their PCs and laptops into portable recording studios and themselves into amateur DJs.
In 2005, as soon as a record hits the stores, fans puts their own spin into it and throw it out onto the internet. Google any song by an artist and the word "remix," it is very likely that you will find some aficionado's set. Some of these "amateurs" are so accomplished, their mixes sound better than the official releases.
In the months following the release of
Medúlla
, Bjork had released three singles "Oceania," "Who Is It" and "Triumph of A Heart," of which, only
"Who Is It"
had remixes that appealed to me. The mixes of other two were so much in the vein of the original that I didn't get the point of them.
I checked out
sunday-in-the-park.com's
Bjork Remix Web Archive
, a good site to find homegrown mixes of the artist and I found a plethora of mixes from that album and previous ones.
Medúlla
makes it easier for the novice DJ to remix because there isn't a lot of production that you'd need to edit out or overlay; you can take the song to a direction that it wasn't meant to, you know, like a straight man after three beers.
I was particularly impressed with
Dark Jedi's
remix of the dense "Where Is The Line." Where the original version was very darkly insistent, his remix added a sad, plaintiveness to the song. This is probably the hardest song in the album to remix. I think that when I first downloaded this mix, I must've played it thirty times, really getting into the groove of it. One of the more prolific ones, Dark Jedi offers five remixes from the album, including "Pleasure Is All Mine" and an industrial, bass-heavy "Oceania."
Another exceptional remix is
Prydrm's
nervous, jittery version of "Triumph of A Heart." I am not sure how he eliminated Rahzel's beats, but it is undetectable. To confound me more, he offers a great melodic mix of "Mouth's Cradle."
I was leery of
Psy's
"Out of the Deep" mix of "Submarine" at first. I wasn't sure of what anyone could do with the song and with Robert Wyatt's atonal backing vocals, but Psy transforms it with a hard-driving jungle beat. The repeated phrases of "do it now" and "out of the heavy deep sleep" becomes a hypnotic command.
Digging further, I found
Disk69's
sensuous "Desired Constellation" and
Jeranium's
scratchy music box version of "Show Me Forgiveness."
So here they are, in my humble opinion, the best do-it-yourself
Medúlla
remixes from the web. You can download them for free from the links below. I suggest you put them in the same order as the songs in the original CD. Mine includes the original version of "Sonnets / Unrealities XI," a beautiful a cappella song, which works surprisingly well among them. I've even provided the artwork, click on the scary Bjork picture in this post.
Jeranium -
Pleasure Is All Mine
Jeranium -
Show Me Forgiveness
Dark Jedi -
Where Is The Line
Mark Bell - Who Is It (Choir Mix) -
get the CD
Psy -
Submarine (Out of The Deep Mix)
Disk69 -
Desired Constellation (MJU:O Mix)
Dark Jedi - Oceania -
get it here
Prydrm -
Mouth's Cradle (Hidden Cradle Mix)
Prydrm -
Triumph Of A Heart
Other notable mixes:
Lesser - Who Is It (c2n dattasette mix) -
get the CD
Buddy Bravo - Oceania (Impression Mix) -
get it here
Buddy Bravo – Where Is The Line (Keybroad Mix) -
get it here
Dark Jedi – Show Me Forgiveness -
get it here
Dark Jedi – Desired Constellation -
get it here
Dark Jedi -
Pleasure Is All Mine
Note: Find the mixes above (as well as others) in the
Bjork Remix Web Archive
-----
Get "Who Is It" remixes and
Medúlla
Other music in my
CD rack
My original
Medúlla post
"Bjork's Saga"
by Alex Ross from
The New Yorker
"Breath Control"
by Kylee Swenson