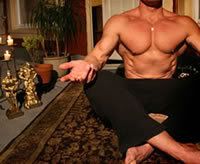 I
do
have super powers! This year I was able to convince my boyfriend, my friends and family that the most important thing this holiday season was that we share good times together, instead of spending our money on gifts.
Since October I had been focusing all my mental abilities on my friends and family to bend them to my will. Sure, it took a lot of time, skill and effort to collect enough blackmail material to control their minds but it worked! I am buying absolutely no presents this year.
None!
It's like a domino effect: no presents means no last minute shopping, no last minute gift wrapping and no last minute visit to my shrink. Black Friday? I spent it at home watching porn. Cyber Monday? Ditto. If everybody doesn't somehow break free of my mind control, 2008 may be the first year that begins with no crushing holiday debt...
-----
Holiday posts from the archives:
Holiday Mixtape - Cheese rules in the holidays.
Pretend Holiday - Remembering the true pronounciation of Hanukkah and Christmas.


Merry War (Christmas Is Over) - The depression that comes after the holidays.
Baby's First Christmas - Jordan's nephew Justin becomes a mouthpiece for his disgruntled aunt.