PREVIOUSLY:
The Tipping Point
-----
On the bustling streets of Soho, the restaurants beckon you, tempting you, flashing their fare with displays in their windows, menus of their exotic specialties, and signs calling out their two-for-one deals:
hey you, and your buddy, together--!
Like a sailor on shore leave, we were eager to sample what the city had to offer. No limits, save what our (designer) purses can bear.

Balan's Café
on Old Compton had a good deal on a great English breakfast: eggs, rashers, sausage, grilled tomáto, toast, sauté mushrooms and potatoes, nicely presented, all for £5.25. Watch out for their gregarious and friendly waiter, only known with the mysterious moniker "Babe."
Just a few steps away,
The Stock Pot
, had a set English breakfast for £4.50. The set consisted of one fried egg, sausage, rashers, toast and baked beans. Coffee or tea is included. Serviceable, but nothing to blog home about, but a good alternative when you're low on cash after binge-drinking. By the way, 'rashers' are not some sort of VD, but a sort of thick-cut bacon, more ham than bacon really.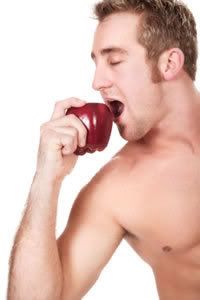 We had some of the best Indian food ever at
Punjab Restaurant
on 80 Neal Street. Punjab specializes in north Indian cuisine, which is rare in Chicago so we had to try it while we were here in London. We started with Punjabi Samosa, which is a fried, crisp pastry filled with spicy potatoes. For my entrée, I had the Chicken Madras, a hot and spicy tomato based curry. Brian had the delicious Chicken Jalfrezi, with pieces of chicken cooked in ginger, tomatoes, onions, green pepper and other spices.
Our other Indian experience at the
Palms of Goa
on 4 Meard Street, wasn't as exciting. The restaurant served south Indian food and boasted Goan specialties. We were eager to try this new Indian cuisine from Goa. For our starter, we ordered the Batata Wada, a bland variation of the familiar samosa: mashed potatoes, green chili and green peas fried in a gram flour batter. I ordered the Pork Mas, a Goan specialty of diced pork, cooked with vinegar, ginger and garlic and spices. I was pretty excited about it because I had never seen pork in an Indian restaurant before, but it turned out bland and the pork tough. Brian had the Chicken Tikka Tandoori, served on a sizzling plate. Tandoori is a style of cooking that involves barbecuing in a clay oven. This Goan variation seemed more lemony than similar dishes I've had and was pretty good.
We also had a chance to go to a couple of Indonesian/Malaysian restaurants, which is also pretty rare in Chicago. Indonesian and Malaysian food are the most similar to the type of food that I grew up with in the Philippines, due to its proximity. I was very excited to find these. I could hardly keep my knees together, I was about to come with excitement.
Melati
on 30-31 Peter Street was the better of the two. We tried the Mee Goreng Istimewa, which is fried noodles with squid, beef and prawn, served with a fried egg on top and two skewers of satay covered in peanut sauce. Awesome! Brian had the tasty Ayam Rendang, which is chicken cooked in a hot spicy coconut gravy with lemon grass. The other restaurant was
Bali Bali
on 150 Shaftesbury Avenue. We started with the Udang Goreng Tepung, which is delicious prawn fritters served with chili sauce. I ordered the Nasi Goreng Special which fried rice with eggs, shredded chicken, king prawns, vegetables and chili which I enjoyed. Brian ordered the Semur Daging, which is beef slices cooked in Indonesian soy sauce. Brian loved it, but I thought it was a tad too sweet.
We had to try some English food so we stopped at this pub called
Old Shades
on Whitehall just south of Trafalgar Square. I had the fish and chips, which was beer battered fish and french fries. However, under the batter, the fish still had the skin on. I wasn't sure whether this was a British thing or not, but it made me sorta gag, like a vagina. Brian had better luck with his sausage and mash.
Viet Noodle Bar
on Greek Street had decent Pho Tai, a traditional Vietnamese beef noodle soup with fresh greens and are you still even reading this b.s. or did you just skip to the end of the post. I thought so.
Then, there was this encounter with an enormous sausage, a twelve-incher on Charing Cross--after a night of heavy drinking at
G-A-Y club
. I was lured by the smell of sizzling meat. The smell led me to a street vendor grilling pale sausages, already turning a nice caramel brown; grilled sweet onions waited in a corner to be used as condiments. My mouth watered at the thought of that sausage at the back of my throat. With the munchies clouding my judgment, £3 had seemed reasonable. But I was quickly disappointed. The meat was tasteless, the skin was dry, and the bun, cold and doughy. It reminded me of my ex-boyfriend, but that's another story.
Finally, there's
Caffé Nero
, a coffee shop, the one on Frith and Old Compton, smack in Bent Central is a good spot to boy-watch and while away some time, where I wrote this post. But beware of the back of the shop, where the acrid smell of piss wafts up whenever somebody leaves the loo, which is located downstairs.
Unless, of course, you're into that sort of shit.

There were several other places we went to, but I started feeling stupid taking notes on all of them. I felt like I was blogging about my vacation instead of taking it. The short of it is that Soho had a lot of great food, all within a short distance from the two hotels we stayed in. Gays, you should definitely stay in this area.
NEXT:
Slideshow
-----

MapEasy's Guide Map to London
was essential to our trip! It gives you a bird's eye view of a city and makes it easy to figure out what places to go. It shows detail maps for Covent Garden/Soho, Greater London, Out-of-Town, and Underground. It is a location map and guidebook in one. Each hand-drawn Guidemap contains useful facts on hotels and restaurants, as well as information regarding shops, museums, and attractions. Plus, the map is made of a waterproof, tear resistant material.
Check it out
!