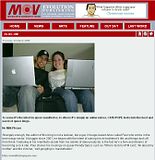 After years of aiming for some level of blog fame, this blog has finally been noticed by the media! Leave it to the folks from Down Under to recognize this blog for its incredible contribution to the community. I think that they realized that without this blog, the world wouldn't know that this amazing level of mediocrity can somehow exist.
The
Melbourne Community Voice
, a GLBT newspaper in Australia, has written
a few nice words
about this site.
MCV
must have a
ton
of readers because in the three-odd weeks since the article has been published, this site has garnered exactly two clicks from there. I know this because like everyone else with a site counter, I obsessively review the stats every fifteen seconds.
The article also mentions a few other blogs, but who cares about them? It's all about me, me, me!
Surprisingly though,
Technorati
somehow managed to miss this particular mention of my blog. Is it possible that there were others that were missed? Shock! Blogs are probably being mentioned and their owners are completely oblivious. This is an outrageous breach of the public's trust! Should we throw a collective hissy fit? Let me know and I'll organize it.
Check out the
article
!
-----
If you're having difficulty retrieving the article,
here's a screenshot
.
Technorati Tags:
Humor
Gay
Queer