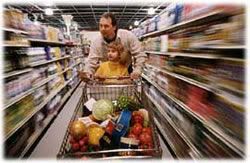 Have we come to a point in American society that when two men are shopping together that we assume that they are gay? Do straight men even
shop
, let alone
together
? Would they call up a buddy and say, "Hey man, let's get some brewskis, some chips and dip, and then to Bed Bath and Beyond and pick out a nice bowl and condiment dish to put them in."
And I am not talking about going to Best Buy to look at big screen TVs. That's not shopping; that's just getting an accessory for one's porno collection.
Shopping is an activity that is more nuanced, more sophisticated; it is what separates man from an ape with a credit card. It's looking at all the things that one can't afford and then going home to bitch at your boyfriend or partner for not making more money to keep us
comfortable
. Shopping builds our dreams, our fantasies and our enormous tolerance for personal debt. It is one of the foundations of modern society, along with backstabbing and stealing office supplies.
My boyfriend Brian and I were at Target last Sunday to stock up on our household necessities. This is the kind of shopping Brian and I don't really enjoy. It's hard to get excited about toilet paper unless you live in the jungle or with someone who has chronic diarrhea.
We have very different approaches to get this task done quickly. Brian goes through our pantry and supply closet and diligently takes inventory of our needs. I don't bother with lists; I just start at one end of the store and rush through every aisle grabbing everything that catches my eye. This usually only takes me 15 minutes, less time than arguing with my mother on the phone about why I can't go to church to meet a girl to marry, well, because I am Agnostic and our god frowns on meeting in churches--there's too much gossiping and backbiting going on in there.
At Target, we decided to stop by the furniture department. While we were checking out computer desks, a guy came up to us and asked for help. He had on black vintage plastic frames and a black bomber jacket. I thought he needed help with picking out a shag rug to match his outfit, but it turns out he was a reporter for
The New York Times
.
He wanted to interview a gay couple about what we thought about the new
Thomas O'Brien
designer furniture that
Target
was featuring. I checked to make sure that I wasn't wearing my t-shirt that says "I AM NOT GAY, I JUST USE FOUNDATION TO EVEN OUT MY SKIN TONE." I decided not to make it an issue as long as he mentions my blog.
To be honest, I was very disappointed with the interview. I thought it would be more in-depth, you know, like the effect on society of the proliferation of wood veneer furniture. But it was more like, which pieces did we like, which ones would we buy and why we weren't lugging something home with us. I think he was confusing his homosexuals; we explained that we don't have a flatbed truck and we don't date strippers--we weren't lesbians, no?
He told us that that the article would come out in the
Home & Garden section
of the
NYT
this Thursday. I am kinda excited/scared. Looking back, I regretted giving using our real names. I think that "Beau" and "Chip" would've made us sound more sophisticated, don't you?