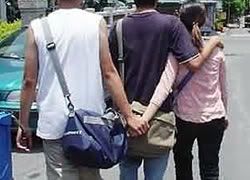 I can't even remember what I was doing ten years ago. Oh, I remember now, my best friend was fucking my boyfriend of three months. Yeah, that was bad.
I was so angry I saw red. I was green with jealousy. And then I saw yellow--a yellow discharge oozing out of my dick. They had given me
the clap
.
I felt terrible. In one fell swoop, I had lost a lover and friend. In the following weeks, I searched my soul even as I searched for a good urologist. I pondered my exes and I pondered the whys. I still am not sure how it all happened, even though the signs were plain as a zebra's stripes.
I had even told them I was happy they were getting along so well. I thought it was a sign that the relationship was going very well. I guess it was, just not
mine
. Hindsight would've been
on 20/20
if I had gotten to the knife drawer before they ran out of my apartment, dragging along whatever clothing they were able to grab. I would've filed a lawsuit, but I didn't know their last names.
Ever since then, I have made a decision never to introduce a new guy to my friends until I got to know them first. I want to make sure that I found the craziest homo I could find so I wouldn't feel so bad if they slept with him.
That's what's bad about gay people. It's hard to trust anybody. Good men are so rare that everybody's always trying to steal your boyfriend. I can't say I blame them. I've knowingly slept with guys who were already in relationships. Karma, right? It comes back to bite you. You just hope it has had its rabies shots.
Eventually, I got over my anger and disconsolation. It all evens out in the end. Or at least that's what it says on the box of my medication. In any case, I got over it.

And after ten years, Alanis Morissette also got over it.
In the ten year anniversary of her groundbreaking CD
Jagged Little Pill
, she has released an
all-acoustic version
of the CD. You can buy the CD now at Starbucks, six weeks ahead of the record stores. Alanis observed that the calm, relaxing atmosphere of the coffee chain is the perfect place to access her latest album. I agree, it gives me something to listen to while I am sitting in Starbucks' bathroom--coffee just makes me shit, y'know?
This move is not without its conflicts.
Record store chain HMV retaliated
by pulling all Alanis titles off their shelves, which in my mind, probably won't hurt Alanis that much since her last CDs
So Called Chaos
and
Under Rug Swept
didn't exactly fire up the charts.
Last Saturday, in her concert at the Auditorium Theatre in Chicago, Alanis mocked her own image of an angry, spurned woman. She noted how a couple of songs ("Forgiven" and "You Oughta Know") on
Jagged Little Pill
made her the poster girl for a whole movement of
riot grrlz
.
If you've listened past "You Oughta Know," you'd know that the song is really quite uncharacteristic of her. "Ironic" and "You Learn" are very gentle and introspective songs which are more in tune with her onstage persona: shy and very self-deprecating. She is not
Avril Lavigne
or
Lindsay Lohan
partying it up with
Paris Hilton
, dancing on top of tables.
The set looked like a very comfortable den: it had a grandfather clock, a couple of couches with throw pillows and blankets. All it needs is cat hair all over the place and it could be my living room. The persian rugs, the small buddha gave it a slightly eastern flavor (whereas I only have to stand in the middle of my own living room to give it some eastern flava). A little end table with a small lamp sat on the front of the stage next to the mic.
The whole vibe of the concert was as if the band were spending an evening at home, playing music together. It felt very intimate, very tight. A fart would've been disastrous.
The concert wasn't strictly acoustic. The bass and drums gave the songs a fuller sound and the organ created a gospel undertone. There are no surprises here, no radical re-imaginings of the songs. But I think that these arrangements brought out how personal and touching some of the songs were.
My wussy friend Joe cried during "Perfect," a song about trying to live up to someone's expectations:
"how long before you screw it up / how many times do I have to tell you / to hurry up?"
I loved the way she captured the awkwardness of falling in love in "Head Over Feet."
Alanis also throws in some choice cuts in between
JLP
songs. I loved the conversational tone of "Hands Clean" and the stark "Uninvited." She updates "Ironic" to reflect the
new freedoms
in her country, Canada:
"It's meeting the man of my dreams and I'm meeting his beautiful...husband."
The crowd cheered.
She closes the show with an exuberant "Thank U," thanking providence for letting her get this far.
And if I stopped to think about it, I've a lot to be thankful for as well. Losing a lover, losing a friend was necessary to bring me where I am today. If those things didn't happen, I still might have been wondering how I got the clap.
-----
Buy the CD: