As I listened to Fiona Apple's unreleased album
Extraordinary Machine
, I pictured Fiona, face heavily painted, alternately banging on trashcan lids, playing an accordion and the armpit fart, while a monkey scampered about her feet, dressed in a marching band suit, playing an organ grinder.
It's Fiona gone
vaudeville
. Or a western saloon.
Extraordinary Machine
was reportedly shelved by Fiona's record label Sony since late 2003 because it had been deemed 'uncommercial.' I guess when they were thinking 'surefire hit,' they were thinking Mariah Carey's
Charmbracelet
. I think this proves that you can't predict what the public will like, because the only thing different about
Charmbracelet
and any of its predecessors is Mariah's increasingly trampy outfits.
A fan, desperate to get
Extraordinary Machine
released, started the
Free Fiona
campaign, hoping to pressure Sony to release it. It's an uphill battle of biblical proportions, like the David vs
Liza Minnelli-Gest
divorce proceedings.
Fortunately, the whole album was leaked to the internet in March, purportedly by Fiona's camp. Fans had been buzzing about how amazing it was.
Like everyone else, I started trying to find sources where I could download it, but Sony had
shut down
many sites which had provided it. It was just by luck that I happened upon
a site
which had posted a high quality rip of the album for a very short time.
I wasn't really sure what to think about the album. The only other time I've heard anything like this was when
Barbra Streisand
sang "The World Is a Concerto/Make Your Own Kind of Music," accompanied by an orchestra made up of strings, horns and
household appliances
. Barbra, in a long satin white gown with long sleeves and a bouffant, sang her heart out while typewriters, vacuum cleaners and blenders all clacked and whirred along.
Yes
, it was
that gay
. Throw a
Pucci
apron on her and she's your average domestic goddess.
Many of the
fan-created CD cover artwork
had been very literal: robotic Fiona, Franken-Fiona, Fiona-and-a-rotisserie-oven (appliances again). But no, the album isn't electronica or
Nine Inch Nails
; it's more like Fiona meets
Tin Pan Alley
, emphasis on the tin pans.
At first listen, the album is all dissonant chords and jangling percussion, very difficult to listen to, very distracting. Remind me never to play this in a
BD classroom
or within twenty-five feet of Robin Williams. I thought it was terrible, I don't think you can blame me.
"Red, Red, Red" was Fiona channeling
Yoko Ono
. She played jarring, fat-fingered chords on the piano in "Oh Sailor." "Better Version of Me" had me looking around to see if
Christopher Walken
was going to suddenly burst in and yell, "More cowbell!
I need more cowbell!
"
But, the album did get better as I listened to it more. The pot had nothing to do with it at all.
I would say it took about eight tries before I was able to get past producer Jon Brion's extravagant flourishes and the Fiona we all know and loved emerged: the broodiness and melancholia, the sudden tempo changes, the crazy ex-girlfriend who gave you herpes--on purpose.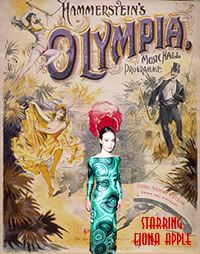 This album is very similar in spirit to
When The Pawn
, but nowhere near it's accomplishment and artistry. I think a lot of folks prefer
Tidal
, which was more mainstream. For these folks,
Extraordinary Machine
will probably not suit.
The title track, "Not About Love" and "Better Version of Me" are very good songs, but there is no "Criminal" or "Limp" here, but that shouldn't be a reason why this album should be held hostage. I think it deserves to be heard. I mean, we had to listen to
Hillary Duff
sing
for chrissakes, the suits owe us this one.
I turned to my boyfriend Brian and asked him what he thought about the album. He said, "It makes me angry. Shut it off."
-----
Note: This post is about the unreleased version of this album. Subsequently, upon the official release, I had a chance to listen to this CD again, with producer Mike Elizondo's polish. I've grown to truly love this album.
Listen
to Music Critic Ken Tucker's interesting review of the CD at NPR.
Listen
to NPR's story of the release of Fiona's CD
Watch Christopher Walken's
SNL Cowbell Skit
(wmv)