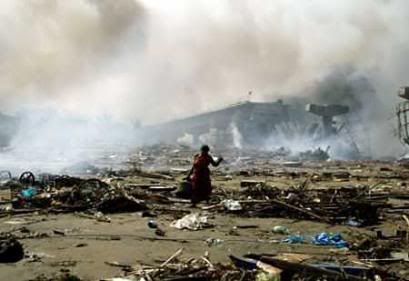 (c) 2004 Reuters
I have been following the news of the devastation that was brought on by tsunamis caused by an
undersea earthquake
to the magnitude of 9.0 off the coast of Sumatra, Indonesia. In the
Aceh province
in northern Indonesia, 25% of the population is said to be dead.
The news media is predicting that the death toll
could top 100,000
.
In Thailand, many vacation spots were enjoying peak season visitors when the giant waves collapsed on them, turning the resorts into watery graves.
Reports
that at least 1,600 foreigners were dead and 3,500 were unaccounted for.
The
pictures
of unidentified/unfound rotting and decomposing bodies littering the shorelines and streets are horrible. The number of people dead could rise because of the lack of food, water, medical supplies and the spread of the disease.
I was just telling Brian a few days before the tsunamis struck that South Asian people were used to turbulent weather like tropical storms, cyclones and typhoons. It was just a way of life. We are a resilient people.
But the magnitude of this has surpassed anything I could have imagined. I am in shock. If the earthquakes had happened on the eastern shore of Sumatra, then the islands of the Philippines, where my family and friends live, might have fallen victim as well. I feel a pang of guilt for being relieved where others are grieving for their lost kin.
-----
Very graphic photo
(large) of this tragedy via
Overworked & Underf*cked
Earthquake/Tsunami
simulation
Before & after photo
The Drowned World
- A Time Magazine photo essay
Celebrities
caught in the tsunamis
Satellite photo
moments before the tsunami impact
in Sri Lanka
Countries hit
by the tsunamis
American Red Cross
donation page
Aid groups
accepting donations for tsunami victims, please do what you can to help!
Survivor
e-mails
at CNN.com
Tsunami facts