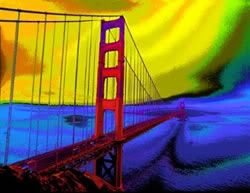 Ahh, San Francisco, the City By The Gay, the world's largest importer of lycra and lube. A city where a "painted lady" refers to a
Victorian-style building
or a drag queen. Within its boundaries lie the Castro District, our Gay Mecca, the place where all homosexuals come to pay tribute to the Holy Trinity of camp,
couture
and club music.
Brian and I flew to San Francisco to attend a close friend's wedding party. My friend had eloped a couple of weeks before, with only a few people attending witnessing the event. I think it's a good way of getting married, unless of course you have a $65,000 Vera Wang wedding dress, in which case having less than 650 guests would be just plain stupid. I have a theory that the number of people invited to a wedding should be directly related to the amount a bride spends on a wedding dress. I mean, if you spent less than $300 on your dress, then you shouldn't really be inviting a whole lot of people because you could be endangering their lives with those yards of flammable fabric.
As we emerged from the plane and into the airport, I was a little disappointed that there was no banner proclaiming "WELCOME GAYS." I always thought that since this was the gayest city in the world, that I would be immediately swallowed into Mardi Gras-like festivities, our flight attendants pulling out feather boas and bursting into song. Instead, it looked just like any other major airport, "modern," encased in glass and just a tad dingy. No matter, this is our Mother City, we were happy to be here.
In my mind, the gay people in San Francisco would be plentiful and easily identified by their looks, mannerisms or cutting, yet witty remarks. It would be like finding a city full of long-lost sisters. I imagined striking up a conversation with a stranger about culture, art or the STD
du jour
.
But the people of San Francisco, while friendly, did not seem more gay to me than the gays in my own backyard. I felt uncomfortable in my outfit: tight-fitting velour pants, baby blue blazer and an ascot tied around my neck.
Did I miscalculate? Should I have packed clothes of a more subdued palette like lavender and crocodile? Or maybe there is a new fashion trend going on in the West Coast? It seems that the current trend looks to be some sort of straight drag--brilliantly ironic, I must say.
At the wedding party, everyone was casually dressed. Both the bride and groom were in t-shirts and jeans. It was a wonderfully sunny day, filled with hope.
It brought to mind that only a short time ago,
San Francisco had voided
all the thousands of gay marriages that were performed when Mayor Gavin Newsom ordered the county clerk to
issue licenses
to same sex couples.
I wondered what my newlywed friends would say if somebody told them that their marriage was null and void. It seemed to me ironic that people have decided that the only way to defend marriage is to strike down the marriages of people who are fighting for the right to be married.
May God bless your marriage, my friends, let no man put them asunder.
-----
Other posts about this trip to San Francisco:

Part 1: Wedding Party

Part 2: Boystown USA



Part 3: A Haunting

Part 4: Detour