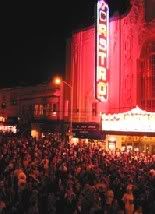 I suppose that for San Francisco, the notion of having a
gay ghetto
like
the Castro district
is almost redundant. Although for most gays, I think the word "redundant" is redundant in itself. Our culture is a Culture of Excess; why wear one tiara when five is so much more fabulous? And three nostrils make it so much easier to snort coke, even if it bleeds sometimes.
I think in San Francisco, the Castro district is almost an anachronism, a quaint little reminder of how gay folk over there used to need a safe place to meet, congregate and smear body glitter all over each other. I mean, if you live in San Francisco and you're in the closet, you must be one fucked up dude. You should really do something about that, like, give me your phone number so we can hook up.
We are immigrants of a sort. We followed the yellow brick road and ended up in the pink ghetto. We arrive at the gates downtrodden, with dreams of finding friendship, love and a full body makeover.
There are many of these ghettos, these boys- and girls- towns all over the world, little pockets of fabulousness and gaiety. It may be a string of gay merchants on a block, a couple of gay bars on the same street, or the little wooded area behind the gas station.
We invented "reinvention." It is necessary after having to go through our shared stories of leaving our families and homes to find a better life, more tolerant community, a higher thread count in our bedsheets. For myself, I wanted a fresh start, away from all the sadness and pain inflicted by those who didn't know my
safe word
.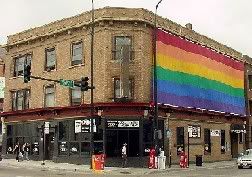 In
my neighborhood
in Chicago, I found a great gay community; friendly and welcoming. I was ready to come out of my shell, meet new people and blow copious amounts of my wad and I wasn't going to stop until I find my one true love or until my balls shriveled up.
Even though I miss my family a lot, I don't think I could have become the man that I am today if I had not moved away and into this gay neighborhood. I needed to find my own way and I couldn't do that with my mom and dad looking under my bed for gay porn.
I still live in Boystown, but I find that I "need" to live there less and less. I find myself thinking about moving out. I think once I thought that this was my final destination: to move into a big city and into the gay neighborhood.
Maybe it's because I am getting older. I no longer need the neighborhood as much I used to. Or maybe it's because more straight people have moved in and it doesn't have the same "feel" anymore. I mean, it
is
really awkward to use the same public toilet with someone who refuses to use the gloryhole between you...
-----
Other posts about this trip to San Francisco:

Part 1: Wedding Party

Part 2: Boystown USA



Part 3: A Haunting

Part 4: Detour

My Online Gay Neighborhood
Advice for Recent Arrivals
- Dos & Don'ts & More Don'ts for Gay Boy Refugees
What is a
Safe Word
?
Public Toilet Museum
Anywhere can be a public toilet for women with
this
An
Executive
Toilet