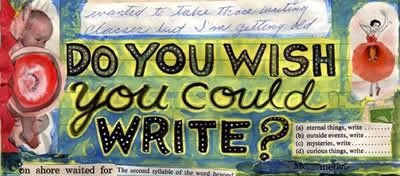 He said, She said. Annie and Paul went to
Lynda Barry's
writing workshop
Writing The Unthinkable
. Paul thinks it's changed the way he views writing; Annie is a happy puppy. Read on!
I know there's a level of trepidation one must feel when signing up for a writing workshop called "Writing The Unthinkable," but if you're seriously considering it, let me allay your fears: it is not scary, it's not stressful and it's not going to be like going to the principal's office. In fact, instructor Lynda Barry, would probably be sitting next to you getting reamed by the principal.

Yes, it is writing intensive: you will be writing at a level and speed of which you've probably never experienced. It's going to be emotional, because the workshop will be accessing your memories, your deepest feelings and imagination in a very connected manner.

There were a couple of times that I felt choked up during one of the writing exercises. I was writing and trying to hold myself together at the same time because I didn't want anybody to think what a wuss I was, especially after I took the time to wear a football jersey to convey my masculinity.

Kelly Hogan, our class monitor, thoughtfully pointed out at the start of the class the various locations she placed boxes of Kleenex, probably because she knew from experience how some Asian in a football jersey may need it.

I think that starting out with what the class isn't may be easier for you to understand what it is. It is not going to teach you grammar, or how to find an agent, or how to write dialogue or plot. It's not going to teach you how to become a famous author.


read what He said.

The nearer this class got, the more my excitement became nervousness, which then became scared shitlessness. Now that it's over I want to live there, leaving only for lemon and brown sugar crepe breaks.

Even though "Writing the Unthinkable" was "marketed for 'non-writers' like bartenders, janitors, office workers, hairdressers--anyone who has given up on 'being a writer' but still wonders what it might be like to write," it wasn't until reading Anne Elliott's blog describing the not just encouraged but mandatory anonymity that I said, "Sign me up!"

And I don't just mean no-last-names anonymity. We're talking Deep Throat anonymity, the kind that allowed you to read your work out loud and be nothing more than a disembodied voice to your classmates. Not that this was enough to get me to participate; some of us require an anonymity of even greater depths. I call this nirvana state annienymity.

Regardless, I still managed to freak myself into a panic attack: What if the rules changed? What if reading out loud is now mandatory? What if it always was but my subconscious desire read the word "voluntary" simply as a coping mechanism? What if my high school nemesis is there, or worse, my WBF (work boyfriend, people--don't pretend you don't have one)? What if someone writes about their childhood abuse and it gets all group huggy except the girl with the dead heart looking for a way to escape this freakshow? What if everyone writes about their childhood abuse and I write about my cat?

read what She said.
-----
More
Unthinkable
:





Recommended books by Lynda Barry: